Graduate Practice
Various Projects
MFA Graphic Design Thesis
CalArts
2018-19
Works completed September 2018 - April 2019 as part of an MFA thesis in Graphic Design at CalArts.


GRADUATE PRACTICE BOOK: 36 pages, pocket bible-size
VIDEO: 4:21 minutes run time
POSTER: 36 x 48 inches, Tyvek and mylar
CARD SET: Box and 34 cards, iPhone 6-size
IDEALS BOOK: 40 pages, pocket bible-size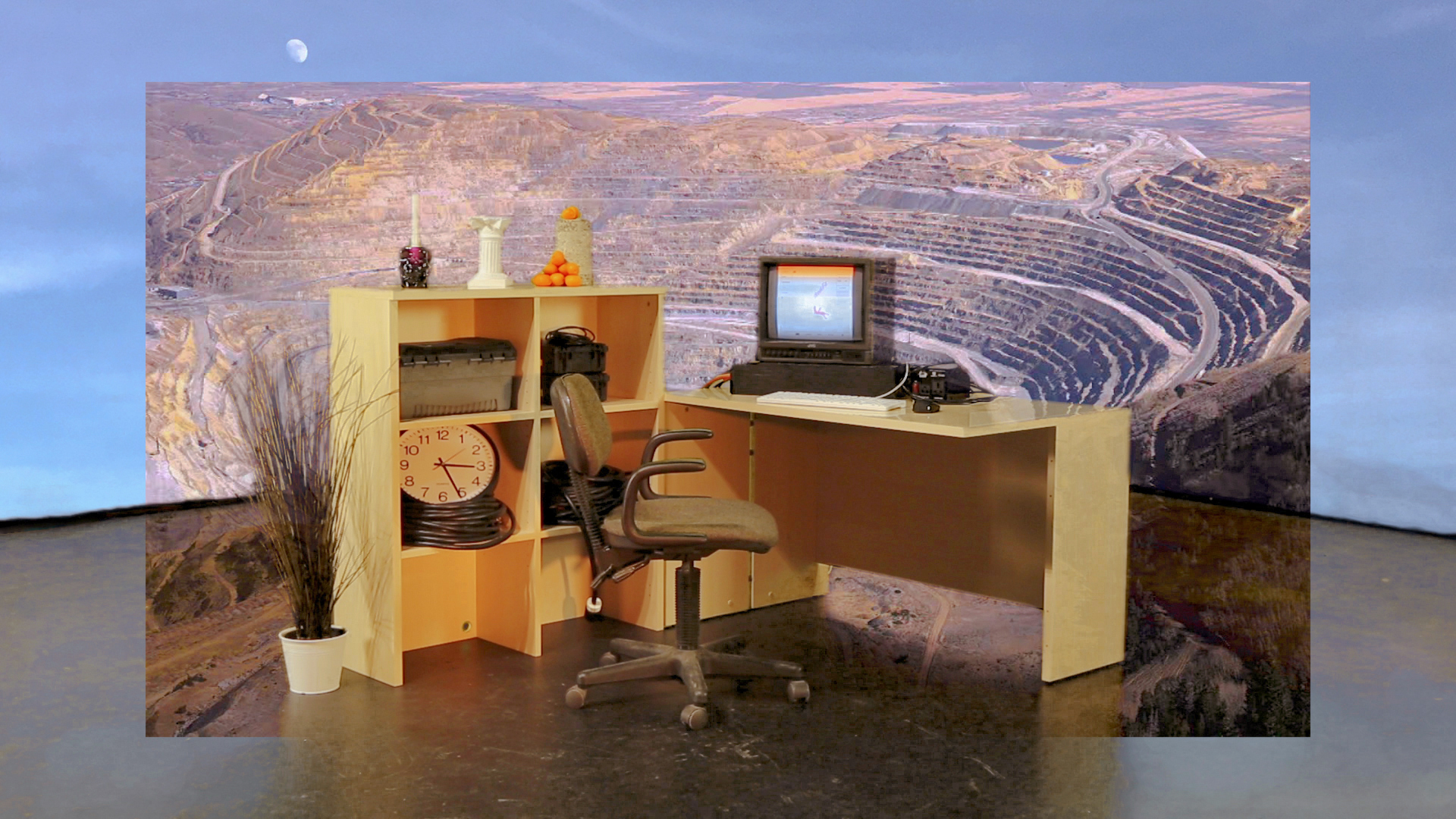 ---


Above
Still from SUPER USEFUL GRAPHIC ART ROBOT (SUGAR) video.
March 2019
These artifacts represent a wandering line of inquiry and personal investigation into what it means to be a creative person doing client work in design.
My work focused on two modes of practice that bookend the spectrum of commercial graphic design: a purely service-based practice, represented by companies like
99designs.com
, and a process-based practice, represented by design thinking companies like
IDEO
.
The outcome of this line of questioning was a series of multimedia projects rooted in fantasy.
---
---


GRADUATE PRACTICE
Pocket bible-size book
36 pages
September 2018
PROLOGUE
"GRADUATE PRACTICE" BOOK


The "Graduate Practice" book is a broad strokes outline of my thesis. It was formed through recurring conversations with friends about the persona of the graphic designer and the socioeconomic role of the "creative" worker.

The identity of the designer is in crisis. Graphic Design originated and continues to be widely regarded as a commercial art. Yet designers find themselves limited by those boundaries and, like those in other creative disciplines, often use their personal work as an outlet for expression and experimentation. But the line separating commercial and personal work is often confusing because one can easily cross over into the other. For some, including myself, an amalgamation of the two is the ultimately desired form of practice.

This tiny book takes the form of a pocket bible. It served as a personal guidebook and container for my questions about the complex and loosely-defined belief system of design.
---
---


SUPER USEFUL GRAPHIC ART ROBOT (SUGAR)
Video
Run time 4:21 minutes
March 2019




---


Above
Very casual production shot.
March 2019
PART ONE
SUPER USEFUL GRAPHIC ART ROBOT (SUGAR)


The Super Useful Graphic Art Robot (SUGAR) is a digital assistant within a fictional design program called the "Graphic Synthesizer." My short film about SUGAR showcases three coexisting and contradictory facets of her identity.

The first portion, an advertisement set within a surreal office environment, introduces SUGAR's functional properties until the narrative is co-opted by a documentary interlude about the conflict of identity faced by today's designer. The film concludes with a psychadelic sequence featuring the video synthesizer world of SUGAR, which represents the avatar's expressive inner life.

---


Left
Still from SUPER USEFUL GRAPHIC ART ROBOT (SUGAR) video, featuring a view of the "Graphic Synthesizer" program interface.
March 2019

Center left
Bitmap animation of the program loading screen.
December 2018

Center right
Bitmap animation of the program interface.
December 2018

Right
Still from SUPER USEFUL GRAPHIC ART ROBOT (SUGAR) video, featuring analog synthesizer graphics.
January 2019
Much of the story is told through the various video formats represented in the constructed worlds of each segment.

These range from bitmap animation, to digitally-composited environments, to motion graphics, to analog video synthesizer feedback. When combined with the video's nested and parallel narratives, they form a flowing, multi-layered daydream about creative desires and the future.


---


Above
Stills from SUPER USEFUL GRAPHIC ART ROBOT (SUGAR) video, featuring analog synthesizer graphics created using Ampex ADO video processor feedback.
January 2019
Maybe identity "crisis" isn't exactly the right term for all of this. It implies darkness and turmoil. However, the intentions behind my questions, asked as an inexperienced and idealistic student, were hopeful. The world beyond the current boundaries of design is obscure, but there is an expansive freedom within that void to shape a new concept of design. The crisis is a turning point.
---
PART TWO
THE DIVINE DESIGN THINKING CARD DECK

Unlike SUGAR, "The Divine Design Thinking Card Deck" has a more cynical read on design. The 34 cards and oversize poster comprising this project question design's foundational values. Together they tell the story of a fictional religion based upon the existing belief system of design.
Popularized by Silicon Valley design consultancies like IDEO and
frog
, Design Thinking implements the methodologies of design as a means for product, service, and organizational innovation. Everything and anything can be improved through the techniques of creative problem-solving.
In practice, its influence is not so revolutionary. "Thinking" often takes primacy over design and the tangible outcomes fall short of their hype. And many form-making designers consider it to be a bastardization of the design process. The founder of one particular design studio scoffed when I asked after his opinion. "We don't do that," he said.
---


Above
THE DIVINE DESIGN THINKING CARD DECK on top of an earlier version of the poster, printed on Tyvek.
April 2019




---


Note 1
Beatriz Colomina and Mark Wigley make a case for design as a fundamental act of human nature in their book Are We Human? Notes on an Archaeology of Design (2017, Lars Muller Publishers). This book served as a reference for current social dialogs about design and how Design Thinking wishes to position itself within the minds of business leaders and the public.
The belief system of design is made up of loosely-defined conventions that are built upon cultural ideals about utility, aesthetics, ethics, and commerce. Design Thinking's strength is in its ability to articulate the intricacies of these ideals in far more depth and detail than many other modes of practice. Within this model, the designer is a powerful and trusted guide, in addition to being a skilled expert.

What is most uncomfortable (and interesting) to me is how Design Thinking has framed the relationship between design and commerce as a virtuous union. If the impulse to design is inherently human (Note 1), then design can humanize commerce. The pursuit of innovation, which is almost always viewed as a benefit for mankind, can be conceived of as greed for good.

---


Above
"Thistle," a typeface that I drew for THE DIVINE DESIGN THINKING CARD DECK inspired by eccentric practices of Buddhist calligraphy from Japan.
February 2019




---


Note 2
McKinsey Quarterly complied a report on Design Thinking in October 2018 called "The Business Value of Design." This report's publication by one of the "Big Three" management consulting firms, which have origins in finance, signifies design's acceptance by the business community.




---


Note 3
From "The Obligation to Self-Design" by Boris Groys (e-flux Journal #00, 2008), in which he defines design as a modern spiritual tradition. Groys describes self-design as a means to attain metanoia, or a transformative conversion prompted by spiritual awakening.
The rise of Apple and its ubiquitous products is the most celebrated example of this philosophy. As a design evangelist, Steve Jobs not only embedded the moral value of design into the public's conscience, but he also correlated it to astronomical and market-changing commercial success (Note 2).

Design's commercial allure is evident, but there is also a mystery to it that is inaccessible to non-designers. Design professes a unique way of seeing that reveals the perfect solution to any problem. This mystery encroaches on being spiritual, as illustrated by the narrative of self-design that is always present within the realm of digital technology. Self-design applies the methods of design to the individual for the purposes of achieving transcendence (Note 3). Design is all-encompassing, it is moral, it is methodological and at the same time it is intuitive. If design is a religion, then Design Thinking is its spiritual path.
---


Above
Select cards from the deck
April 2019
The iPhone-sized "Divine Design Thinking Card Deck" illustrates the values of this fictional religion. It combines the methodology of Design Thinking with the functionality of tarot to help the user divine their next business move. Read regularly, the cards allow the user to engage with Design Thinking principles as a ritualistic practice that primes them for enlightenment by innovation.

The deck and accompanying poster feature a maximal mishmash of occult symbolism, modernist typography, and fractured hyperreal imagery. Not the expected look of white-and-smooth-edges, but a topsy-turvy fantasy visual language.
---


ABOVE
The accompanying poster, including card reading instructions.
April 2019
At this point, I think it is time to disclose some pertinent information about myself: I am a business school grad and was briefly employed at a design thinking consultancy. This work is as much a critique on the matters of design and commerce as it is a reflection of my own experiences.

The most personal aspect of this work is the fact that it allowed me to question what initially drew me to design. As someone who pursued a business degree to apease their parents, Design Thinking seemed like the missing link between my duty-bound studies and repressed creative aspirations. Its narrative of self-design and promise to alchemize commerce into a moral act dazzled me at 20. At 30, I am wary of design because of its immense potential to cause both benefit and harm.

It is easy and careless to solely characterize design as a Trojan Horse for the values of late-stage capitalism. Our desire to ascribe it with spiritual meaning suggests that it represents much more. If design is robust enough to contain something as complex as a spiritual practice, what would happen if we replaced its commercial core with something more meaningful?
---
---


IDEALS
Pocket bible-size book
40 pages
April 2019
EPILOGUE
"IDEALS" BOOK

I came full circle for my last project and made another pocket bible. "Ideals" offers parting thoughts on the divide between client and personal work and proposes a framework for bringing the two into greater alignment. Nothing groundbreaking and no grand insights. Instead, "Ideals" is a personal manifesto for creative practice.
---


Above
IDEALS doubles as a type specimen for "Optimal," a humanist sans serif typeface inspired by Optima.
February 2019
The book is set in "Optimal," a typeface that I drew as an homage to Optima and other humanist sans serifs. At the time of their initial release, these typefaces were a softer, more expressive alternative to the predominantly machine-tooled typefaces of the mid-century modernist tradition.

"Ideals," in a similar spirit, seeks a place for personal expression among the many machine-tooled practices of the graphic design profession. It is tempting to become jaded, to give up agency in the face of obstacles and uncertainty. "Ideals" is an antidote to becoming jaded. It is a guide and reminder that there are ways to create with meaning.


---
THESIS ADVISORS

Yasmin Khan
Lorraine Wild
Michael Worthington
THANK YOU

Shibo Chen
Minjoo Cho
Ella Gold
Jisoo Han
Onyou Kim
Xuanyi Lin
Vivian Naranjo Martin
Tracy Tran

Irene Gil Ramon
Stuart Smith
Julie Moon